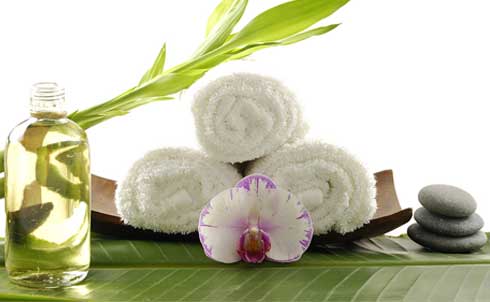 Day Spa
Clermont Herb Shoppe & Day Spa was established in August 1999.  We are an environmentally-conscious and green clean day spa.  We offer a variety of massage and skin care services for men, women and young adults. Our licensed therapists are highly trained and complete an excess number of required continuing education credits per year. We offer a relaxing, friendly and enjoyable spa atmosphere with a quiet area for you to "chill out" before and after your treatments as well as an educated and professional staff. Whether you are reducing your weekly stress, spending quality time with your spouse, family or a friend or celebrating a joyous occasion with a group, we look forward to serving you. Spa parties and couple massage available.
Our Day Spa provides a relaxing, serene atmosphere sure to replenish your body and mind. Our licensed massage therapists and estheticians provide exceptional treatments including Swedish massage, deep tissue, hot stones, reflexology, craniosacral, custom facials, acne and age-defying face treatments as well as Detox Foot Baths. Buy gift certificates online today!
Massage Services
Clermont Herb Shoppe has massage therapists on hand to offer a wide selection Massage Therapy including couples massages, relaxation massages, deep tissue massages, exfoliation massages and more. Learn more about our massage therapy services.
Facial Treatments
Clermont Herb Shoppe offers a wide selection of facial treatments, including herbal, pore cleaning, adult acne, therapeutic, hydrating, blushing bride, gentleman facials, and more. Learn more about our Facial Treatments
Office and Spa Parties
Enjoy our Day Spa area and three therapists for chair massage, mini facials and hand or foot treatments. Great for birthdays, showers, employee recognition and other special events.  $200 per hour ($50 for each additional therapist). $50 cleaning deposit required. Or offer chair massage during the day at your office.  $65 per hour, per therapist.  Call to book your event, 352-243-3588.  Must be prepaid (non-refundable).
Detox Foot Spa
For educational purposes only.  Soak you feet in a foot bath full of energy and water that has historically been known to gently pulls toxins from the body to enhance its natural capacity to detoxify. Call us for more information or to schedule an appointment.  30 min. – $35, or Series of 7 for $210
Spa Guidelines
The Clermont Herb Shoppe & Day Spa exercises green practices to ensure a chemical free environment.  Enjoy our eco-friendly toiletries, botanical and essential oil spa products and a green cleaned atmosphere surrounded by pure aromas.
We are a smoke-free business and kindly ask that you do not smoke prior to your spa treatment as some therapists and spa-goers have allergy sensitivities.
Arrival Time:  To enhance your spa experience and ensure a timely treatment, please arrive 5-10 minutes before your scheduled treatment.
Cancellations:  Please be considerate to your therapist and allow 48 hours notice if you need to cancel or change your appointment so they may accommodate other clients. A fee may be charged for cancellations less than 48 hours.
What if I am late for my treatment?:  Arriving late will simply limit the time of your treatment thus lessening its effectiveness and your pleasure.  Your treatment will end on time so the next guest will not be delayed. The full value of your treatment will be charged.
Health Conditions:  When making your reservation, please let us know if you have any physical ailments or disabilities, a serious health condition or are pregnant (there are some services that should be avoided during pregnancy, especially during the first trimester). If conditions such as these exist, please consult with your healthcare provider before making your appointment.
Cell Phone Usage:  Please turn off your cell phone before entering into the spa area so other spa guest are not interrupted.
Spa Quiet Area:   Our spa quiet area is designed to help you relax and unwind prior to your spa treatment.  For the enjoyment of everyone please turn off your cell phone and pager prior to entering into the spa.
Water, Water, Water:  For maximum benefit of your spa treatment be sure to drink plenty of water after you leave.  
Gift Certificates:  Available in the shop and online online. Redeemable for Spa services, Herb Shop products and JennScents Aromatherapy products.  
Military, Law Enforcement & Teacher Discounts: 10% off
Must show Valid ID; ID Holders Only. Excludes Packages
Price and Service Changes Effective as of Janury 1, 2012
Prices are Subject to Change without notice.
Information provided is for educational purposes only. It is not intended to treat, cure, diagnose or prescribe. It is recommended that you consult a professional healthcare provider before beginning any wellness program and if serious health concerns exist.
Spa Packages
Herb Shoppe Stress Buster Spa Package – 3hrs. $275
3 hours of pampering with the Ultimate Relaxation Massage, Peppermint Stix Scalp Treatment, Solely Splendid Foot & Healthy Hands Combo during a JennScents Aromatherapy Facial. Customized Aromatherapy Blend with Sensory Testing, snack and beverage.
Herb Shoppe Rejuvenator - 100min $100
Most popular! Includes a Swedish Massage and Custom theraputic Facial or Gentleman's Face Treatment. *Add the Solely Splendid Foot & Healthy Hands Combo to this package for just $50.
NEW! Transformation Trio - 140min $145
Renew, restore and rebuild your body and mind. First unwind with a Scalar Laser Treatment followed by a relaxing Swedish Massage and Detox Foot Bath.
NEW! Lymphatic Spa Combo - 55min $60
Nourish and rejuvenate your lymphatic system with Lymphatic Drainage and a Detox Foot Bath.
NEW! Fabulous Feet Retreat - 80min $90
Promote overall health and well-being with Reflexology followed by a Solely Splendid Foot Treatment.
NEW! Wedding Spalabration - 220min $225
Indulge during this special time with a Custom Aromatherapy Blend & Massage, Blushing Bride Facial or Gentleman's Face Treatment, Scalar Laser to reduce stress, snack and beverage.
NEW! JennScents Aromatic Journey - 165min $185
Engage your senses with the JennScents Aromatherapy Massage, JennScents Aromatherapy Facial and JennScents Aromatherapy Custom Blend.