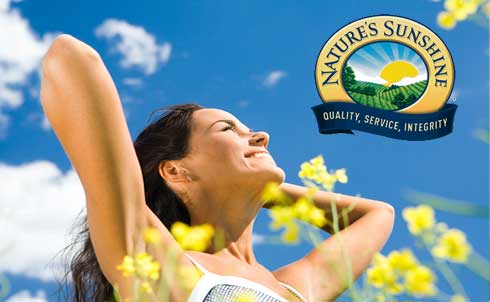 Nature's Sunshine
By placing in your hands the finest herbs and nutritional supplements, Nature's Sunshine gives you the tools you need to take charge of your health and to look and feel your best.
Quality at Every Step
The quality process starts with the raw herb harvested from the fields and extends through the manufacturing process to the finished products you use every day. Time and time again, we hear stories of people who have tried other brands, only to come back to Nature's Sunshine because they just weren't getting the results they had experienced with our products.
Because we manufacture our own products, we can build quality into them and control every aspect of testing along the production process.
Watch the video below of our manufacturing process to learn more.
NSF International a non-profit, non-governmental organization and world leader in standards development and product certification, presented Nature's Sunshine with the NSF Good Manufacturing Certification.
NSF is a leading, third-party auditor of companies involved in the health and public safety sectors. Their certification of our manufacturing facility means we passed an extensive audit by NSF staff, including an examination of production equipment and a thorough evaluation of our policies and procedures and our manufacturing processes.
Testing – We Have 600 Tests at our Disposal to Guarantee Quality
Our raw materials and finished products undergo more testing than other companies' products.
Click here to learn more about Nature's Sunshine.
Experience
When it comes to making quality products that yield results, there is no substitute for success. With over 40 years of experience, no company in the health supplement industry works harder to provide quality vitamins, minerals and herbal formulas.
At Nature's Sunshine we pride ourselves in our team of scientists, each chosen for their specific knowledge of product research, development and quality control. With Nature's Sunshine you can be sure you're getting the highest-quality, best-formulated products available.
NSP scientists work with top researchers at renowned universities to study and test our products and their active constituents.
Technology
NSP meets or exceeds current government Good Manufacturing Practices and pharmaceutical quality standards. Our 250,000+ square-foot facility includes a climate-controlled warehouse and cutting-edge laboratory equipment. This allows us to manufacture consistently high-quality products for our customers all over the world.
Learn More About Nature's Sunshine Products
Click here to go to our dedicated web site explaining the benefits of Nature's Sunshine Products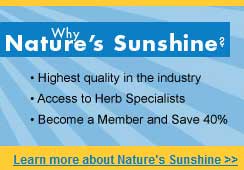 ---
Nature's Sunshine Products Commitment To Quality
Watch the video below to see the lengths Nature's Sunshine goes to ensure the quality of its products.
Herb Shop Business Opportunity
Our mission at the Clermont Herb Shoppe & Day Spa has always been to help people help themselves. We feel compelled to do our part and help our customers and community, especially during these hard economic times. Join the millions of people who earn extra income everyday by simply sharing health and wellness. There is an old saying, "Give a man a fish and feed him for a day. Teach a man to fish and you feed him for a lifetime."
We want to teach you how you can feed your family for a lifetime, worry-free, with the Nature's Sunshine Products (NSP) Business Opportunity. We know your time is valuable so give us a call to schedule a one-hour private consultation, at your convenience, to see how you can get started making Nature's Sunshine work for you. Click here for a list of benefits with Nature's Sunshine.
Click here to learn more about Nature's Sunshine.
For more information or to schedule an appointment, please contact us at 352-243-3588 or use or contact form. We hope to see you there as you begin your journey to financial freedom and personal growth.